Ray C. Sherman Community Service Award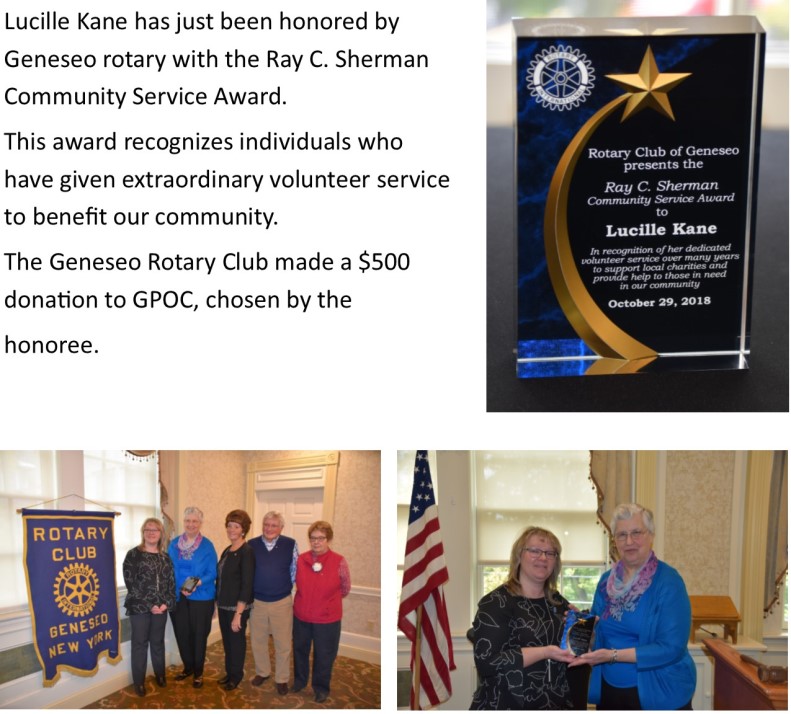 Dear Friends of the Geneseo Parish Outreach Center,

We're excited to share the news that the Geneseo Parish Outreach Center has received a $10,000 grant from the CVS Health Foundation in partnership with the National Association of Free & Charitable Clinics. The funding we're receiving will help us increase access to health care for underserved populations in the multi-county area in and around Livingston County and specifically, support our Comprehensive Diabetic Preventative Care Services by helping to fund laboratory services, diabetes screening, annual eye care, preventative dental care, podiatric care, cholesterol and urine micro- albumin screening, monitoring of patients AIC levels, diabetic health counseling, and navigator insurance assistance for our diabetic patients.

As an organization, we face many health care challenges but the support we are receiving from the Health Foundation will help us address those challenges and provide the multi-county area in and around Livingston County with access to innovative health care services and improved health outcomes for patients managing chronic conditions.

As we continue to look for opportunities to expand access to healthcare in our local community, we're thankful for the support from the CVS Health Foundation which will make a positive impact on the health and the well-being of our patients.

Regards, The Board of Directors of the Geneseo Parish Outreach Center


Sheila James, owner of Curves Geneseo delivers 272 pounds of food and $40. to the Geneseo Parish Outreach Center. Linda Weaver, director POC, gives a big Thank You to all the folks at Curves Geneseo for their generosity in helping us to help the people needing groceries.
Fifth Annual Gala in the Valley at the Wadsworth Homestead (2016)
Linda Weaver Speaker
Thank you Karen for the introduction and thanks to all of you for inviting me to speak to you today.
Let me start by asking you to turn your imaginations on for a minute. Imagine you have precious little money, and after paying your rent, you have to choose between buying groceries, buying gas so you can get to work, or getting your prescriptions filled. Which would you choose?
Or how about this one? You're sick and you've a job and medical insurance, but you don't have money for a doctor copay or a specialists. What do you do? Scrimp on the groceries and go to the doctor or just tough it out and hope for the best.
Finally, perhaps you've lost your job and now you don't have any medical insurance and you fall ill. Where would you turn for help?
In all of these scenarios you could turn to us, the Geneseo Parish Outreach Center. We exist to fill these needs of the less fortunate people of Livingston County and beyond.
Here's an example of the type of thing we deal with every day. A local doctor referred a patient to us who had no dental insurance. His teeth are black and his mouth a mess. Because we partner with local dentists, we were able to refer him to a dentist and pay for his needed work at a fraction of the cost it would have been otherwise. And how did we pay for that work? With funds from the grant you folks sitting before me so generously gave us. I can't tell you how good we all felt when he returned to our Center, free of pain, to show us his new teeth. It's a feeling that you may share with us. Working together, we gave this man a new life.
We also have diabetics who come in our door who are unable to pay for their insulin. They may have heard about us from a friend or read about us in a newspaper or Penny Saver and call us for help. Here again, we are able to help these people because of the monies we received in your United Way Grant. If you'd like to see the substantial cost savings to both patients and to us as citizens of Livingston County, check our website under Student Research. You'll also find there a great video created by David Morris, a now former college student from SUNY Geneseo, demonstrating the Return on Investment from our Center.
Here's a third example of what together we are able to do to change lives. We had a patient referred to us by Noyes Hospital who couldn't be released from the hospital until he could be monitored by a physician. His doctor was in another state and his insurance didn't cover treatment here. One of our doctors was able to see him and monitor his condition allowing him to be released from the hospital and thereby drastically reducing his expenses. I wish time allowed me to tell you about the unique way he used his talents to repay the clinic. It would not at all surprise you to learn how grateful clients are for the help that they receive, but you might be amazed at how some have given back by offering their unique God-given talents.
We are the only clinic in Livingston County offering this type of assistance. There are others clinics like ours around the United States doing similar work and perhaps helping a Livingston County resident visiting their part of the country. We belong to the National Association of Free and Charitable Clinics where all of us get together and share ideas and often dreams of what more we could do if the funds were available. We recently attended the national convention in Orlando, where we learned "If you see one charitable clinic, you've seen one charitable clinic." While we all do much the same thing, we're all different, but working toward the same goal.
The Geneseo Parish Outreach is an all-volunteer organization; there are no salaries. The Center's staff, including – God bless them! - our doctors, nurses, administrators, and paras, come from all over the county to volunteer their time and talents. The past month alone our volunteers logged over 536 hours. The Geneseo United Methodist Church donates the space, heating, and lighting for our operation. Our overhead operating expenses consist mostly of telephone and fax, insurance, computer equipment and repair, off site back up network for secure electronic medical records and office supplies. These operating expenses amount only about 10% of our budget. Much of our medical equipment has been given to us by local doctors as they upgrade or retire. We partner with many organizations in our community in order to accomplish our goal of treating the whole patient and not just a single ailment of that patient. Again a visit to our website will show you some of our many partners, and will tell you about the bags of food, paper goods and sometimes gas cards we give to patients when they come for their appointments. We're also a medical insurance navigator site.
In closing I must tell you that we're always dreaming. We dream of a new EKG machine, preventative dental care assistance for all of our clients, an automated texting system to send clients reminders of upcoming appointments. With such a system we could also alert our diabetic clients about upcoming diabetic clinics and send reminders to clients when it's time for a blood test. This automated capability would cut down on the many hours that volunteer spend making calls.
Well, that's a quick overview of what we do at the Geneseo Outreach Center, or rather what together we do, because we couldn't do nearly so much without the generous help of United Way of Livingston County. All of us involved in the Clinic can't begin to thank you enough for the support you have given us in the past, and certainly for the funds you are providing us for the coming year. Together we are improving the health and well-being of Livingston County residents in need.
Thank you!

Geneseo Parish Outreach Center thanks Pat Gardner for raising over $200. from drawing for two wall hangings and table runner. Pat organized the raffle and sold tickets at her booth in -Avon Flea Market and at events throughout the summer to benefit the GPOC and donated the money to POC.
Thank you to Karen Wissler for donating her time and talent when making these items.
Winners of the drawing are: Nita Hawkins from Piffard, Becky Lewis from Linwood, and Angie Pitts from Hornell. Thank you to all who supported this fund raiser allowing the POC to help people in need of medical assistance.




Karen Runfola, Regional Director and Nancy Lippke, Administrative Assistant informed Linda Weaver, Executive Director of The Geneseo Parish Outreach Center, Inc. that the center has been awarded $20,000.00, in United Way of Livingston County funding for the 12 month period beginning August 1, 2016 and ending July 31, 2017. We thank the United Way for helping us to continue to provide for those in medical need in Livingston County.



---

Parish Outreach Center Director, Linda Weaver presents Shirley Harris with a certificate of appreciation for her dedication to the Parish Outreach Center since it's conception in 2004 for keeping track of all professional Doctors and Nurses licenses and CPR certification, making sure they were in compliance.
Shirley will be missed as she goes to live with her daughter Lisa in Gilbert, Arizona.



---
| | |
| --- | --- |
| | Shirley Harris taking blood pressures at the Caledonia Health and Wellness Fair in Caledonia on Saturday, Sept. 26, 2015. |
---