Thank You All !
---
Thank You Jerry Weaver
Geneseo Parish Outreach Center – SUNY Geneseo 2019 Connection
September has been a busy month for the Center connecting with opportunities at SUNY Geneseo.

On September 3rd
Diana Harke, Volunteer and current President of the Board of Directors, met with Norm Karsten at SUNY's Small Business Development Center where she got several great ideas on how to improve the Center's community presence – that is making its function of providing free and minimal cost health services known to the population who might need these services. These ideas can be implemented without taking funds from patient care. Word of mouth and doctor referrals have been the main avenues of alerting potential patients of the Center's services to date.

September 4th
Linda Weaver, Founder and Former Executive Director and Diana Harke participated in the Volunteer Fair at SUNY Geneseo. Fourteen students expressed an interest in helping the Outreach Center further its mission of Providing Access to Health Care for the uninsured and undeserved population. Several signed up to help at the upcoming Diabetic clinic.

On September 11th
Donna Flaherty, the Center's Executive Director, Linda Weaver, and Diana Harke met with Wendy Pogozelski, Distinguished Teaching Professor of Chemistry and Pre-med Student Coordinator, and 8 pre-med students to introduce them to the Center and its operation. This partnership will benefit the Center with volunteer help and the students in experience in a rural, free and charitable health clinic.

On September 27th
Linda and Diana met with Nicole Manapol, Field Coordinator of SUNY's Adopt-a-Business student intern program, and five college students who are becoming interns. Two of these students will be working with us. The students learned about the Geneseo Parish Outreach Center including its functions and operations. Having already looked at us on line, they were able to give us technology advice immediately. The two students who will be working with us will come up with a plan to help us with more technical advice that is aimed at furthering our mission and program.




Food Pantry Donation.
Donna Flaherty accepts these groceries from
Sue and Jen from Dr. Dolan office.


Thank you to Dr. Dolan Geneseo Family Eye Care for this wonderful food pantry donation. They have been donating for seven years annually to the Geneseo Parish Outreach Center!




Grants Appreciation
Thanks to United Way for the $28,500 grant for our Dental and Medical Program for the period September 1, 2019 to July 31, 2020.

Thanks also to the F.F. Thompson Foundation for the Mary Clark Thompson Community Health Grant of $1000 for our Substance Abuse/Mental Health Counseling initiative.

We gratefully accept these grants on behalf of our clients for the betterment of their health and wellbeing.
Geneseo Parish Outreach Center
Providing Access to Health Care




Thank you to Dr Andrew Merkel podiatrist for seeing patients at the Geneseo Parish Outreach Center Wellness Fair Saturday August 24.


Thank you for the MCT (Mary Clark Thompson) Grant.
We have been awarded $1000 for the Mental Health/Substance Abuse Expansion Initiative to fund counseling. Congratulations.
Donna Flaherty PA, Executive Director
Linda Weaver RN, Consultant
Geneseo Parish Outreach Center, Inc.
geneseopoc@gmail.com
phone: 585-243-3120
fax: 585-243-1189
gpocenter.org
See us on Facebook




Ray C. Sherman Community Service Award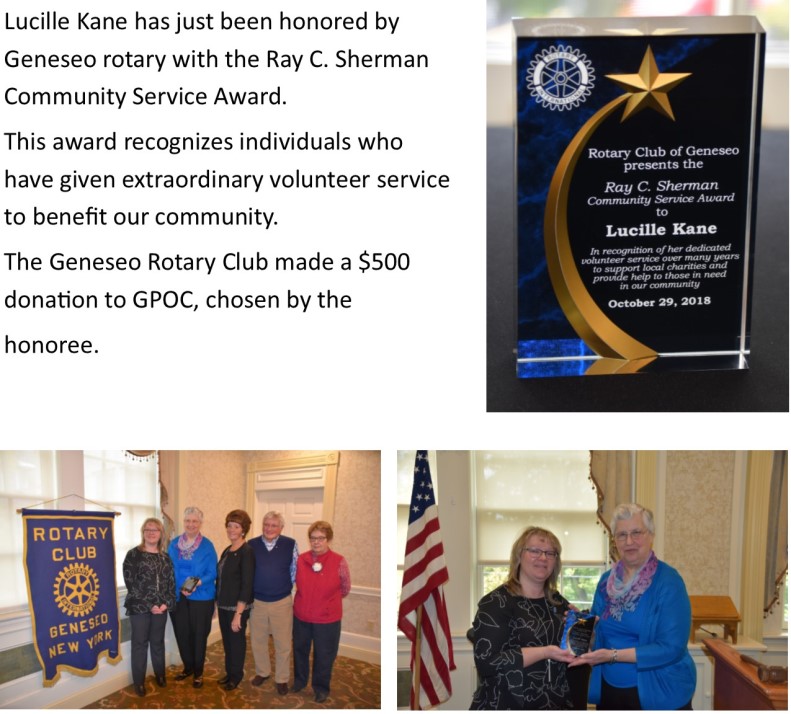 Sheila James, owner of Curves Geneseo delivers 272 pounds of food and $40. to the Geneseo Parish Outreach Center. Linda Weaver, director POC, gives a big Thank You to all the folks at Curves Geneseo for their generosity in helping us to help the people needing groceries.

Geneseo Parish Outreach Center thanks Pat Gardner for raising over $200. from drawing for two wall hangings and table runner. Pat organized the raffle and sold tickets at her booth in -Avon Flea Market and at events throughout the summer to benefit the GPOC and donated the money to POC.
Thank you to Karen Wissler for donating her time and talent when making these items.
Winners of the drawing are: Nita Hawkins from Piffard, Becky Lewis from Linwood, and Angie Pitts from Hornell. Thank you to all who supported this fund raiser allowing the POC to help people in need of medical assistance.




Karen Runfola, Regional Director and Nancy Lippke, Administrative Assistant informed Linda Weaver, Executive Director of The Geneseo Parish Outreach Center, Inc. that the center has been awarded $20,000.00, in United Way of Livingston County funding for the 12 month period beginning August 1, 2016 and ending July 31, 2017. We thank the United Way for helping us to continue to provide for those in medical need in Livingston County.



---

Parish Outreach Center Director, Linda Weaver presents Shirley Harris with a certificate of appreciation for her dedication to the Parish Outreach Center since it's conception in 2004 for keeping track of all professional Doctors and Nurses licenses and CPR certification, making sure they were in compliance.
Shirley will be missed as she goes to live with her daughter Lisa in Gilbert, Arizona.



---